Microsoft Excel tools and functions PDF Free Download
Purpose and Overview
The purpose of this manual is to provide an overview of Microsoft Excel tools and functions which are most useful to improve daily operational efficiency.
What is Excel?
Microsoft Excel is a spreadsheet application that is commonly used for a variety of uses. At its core, Excel is a table consisting of rows and columns. Excel is composed of rows and columns and uses a spreadsheet to display data.
Features include:
calculation,
graphing tools,
pivot tables,
and a macro programming language called Visual Basic for Applications.
What can I do with this?
The data within a table can be sorted by any column, which means that the rows can be ordered by last name or first name alphabetically, by the ID number ascending or descending, by the amount paid to ascend or descend, or by the date. You can also filter the data in the table to have only specific values shown.
What is a cell?
A cell, outlined in green below, is an individual block within a table in which you can enter values, such as words or numbers.
What are rows and columns?
Rows, outlined in red below, are a horizontal group of cells. Columns, outlined in blue below, are a vertical group of cells.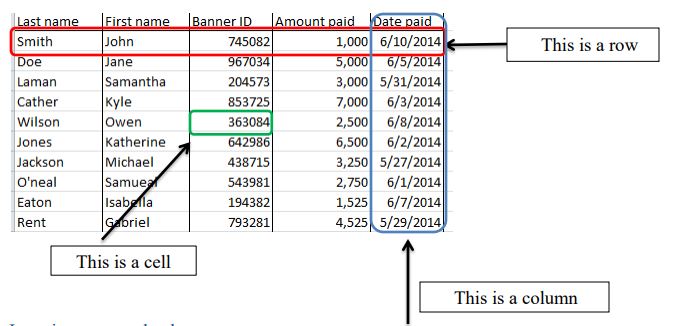 Inserting rows and columns in excel
To Add a Row:
1- Select the entire row below where you want to add the new row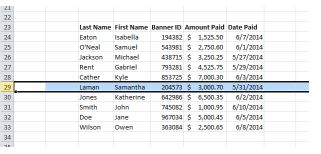 2- Right click, and select Insert.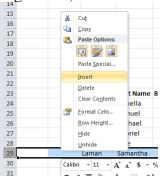 To Add a Column
1- Select the column to the right of where you want to add the new column and select Insert.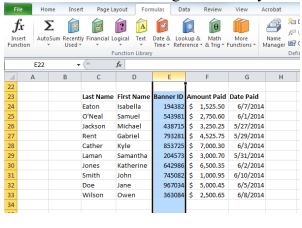 2- Right click, and select Insert.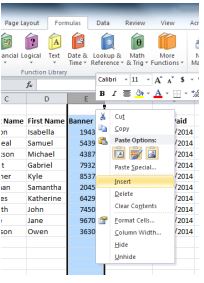 What is Navigation?
Navigating through your spreadsheet doesn't have to be difficult. Using some very simple keystrokes, you can move from one end of your spreadsheet to the other faster than using the scroll bar.