Free PDF Guide About Project Management Methodology
Definition of a Project
A project is defined as a temporary endeavor undertaken to create a unique product or service- PMBOK®.
A project is considered to be a temporary endeavor with specific goals to accomplish defined objectives. The completion point of the project must be defined and agreed upon by stakeholders during the Initiation of the project.
Definition of Stakeholders
Individuals and organizations that are actively involved in the project, or whose interests may be positively or negatively affected as a result of project execution or project completion. They may also exert influence over the project and the results – PMBOK®.
In order to accomplish stakeholders' goals and meet their expectations projects need well-defined goals and clearly defined business functions. Stakeholders are key in helping provide, develop and influence business decisions and goals within a project.
Project Process Groups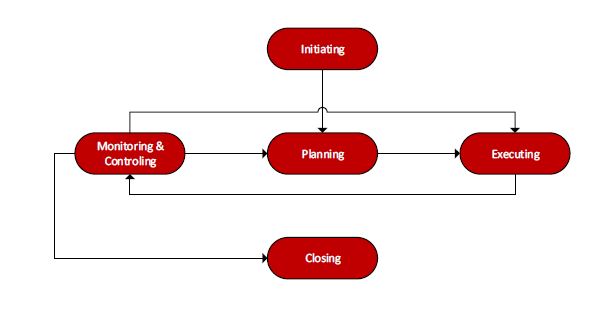 All projects are unique and have different constraints and uncertainties. By dividing the project into process groups they become much easier to manage. These process groups are known as the project life cycle. The five process groups that make up the project life cycle are listed below:
Initiation – In this process group, the project is defined and organized.
Planning – In this process group, a project plan is developed that is in line with the stakeholder's goals.
Executing – In this process group the project plan is implemented and resources are coordinated and allocated to the project.
Monitoring and Controlling – This occurs throughout all process groups of the project. Goals and objectives are monitored and actions are taken to overcome issues or problems. Open communication and collaboration among all project members is needed in order to identify and resolve issues or problems that may arise.
Closing – This process group formalizes the completion of the project with the customer and stakeholders officially accepting the completion of the project and providing feedback.
Why And How To Use Project Management Methodology
Want to learn how to use different project management methodologies?
Watch the following video presented by our expert and learn four of the most commonly used ones.